Suzanne Connolly Workshops

The original "Energy Psychology", Thought Field Therapy (TFT ) has been shown to be effective in the treatment of PTSD (Post Traumatic Stress Disorder), Trauma, Anxiety, Phobias, Anger, Guilt, Addictions, Sexual issues, Relationship Problems, Marriage and Family problems, Family of Origin issues and more.
Why get trained in Thought Field Therapy?
TFT can help you Increase the effectiveness of your practice
TFT works well to compliment other therapeutic methods
TFT elicits the relaxation response and helps counter condition negative memories
TFT facilitates the restoration of balance in the autonomic nervous system (ANS)
TFT has been proven to be highly effective in studies published in main-line peer reviewed journals
TFT is a gentle, efficient and effective way to help clients release traumas, anxieties, fears, grief, sadness and more
TFT is easily tailored to your clients' unique goals and needs and to your therapy style
Suzanne Connolly TFT Workshops are approved for 13 CE credits by the California Board of Behavioral Sciences for social workers, counselors, and marriage and family therapists, and for 13 CE's by the California Board of Registered Nurses
Suzanne has trained over 2,000 professionals and para-professionals in the United States, France, Kuwait, Israel, Rwanda and Canada
Learn to use TFT, at a Suzanne Connolly Live Workshop Training, and learn how to integrate TFT with the  traditional and alternative therapy approaches you already use. Thought Field Therapy can help restore balance to the autonomic nervous system by reducing stress via illiciting  the  "relaxation response". You will learn to use Thought Field Therapy to reduce the life-limiting effects of past  traumas and limiting belief systems. Because, no two individuals are alike; you will learn how to tailor Thought Field Therapy treatments to your clients'  unique individual goals and needs and to  your own personal therapy style.
 Thought Field Therapy Training Online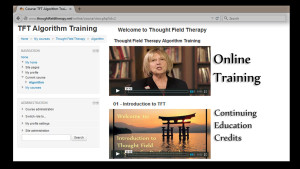 ENROLL NOW or Login to your account
"I love Suzanne's program…
Suzanne's program seems to me very much in line with ACEP goals, values, and mission – in that it is well-presented, very clear, the teaching is provided by a professional clinician, and it is oriented towards other clinicians who will wish to integrate it into their existing practice and the wider field of psychology and science. Even those who already have some background in TFT will find much that is of value in this clear presentation of basic concepts and techniques – and, as the advert says, it is the first and most fundamental form of EP."
Phil Mollon, Ph.D., Psychologist & Psychoanalyst

---
"Thought Field Therapy, the first energy psychology approach ever developed,
is a stunningly effective therapeutic technique and Suzanne Connolly does a
superb job of teaching it.  If you are new to the field, you'll find the information
is presented in a clear, step-by-step format.  If you're experienced, you'll still
find much of value here.
I was fortunate to attend a live two-day training offered by Suzanne.  Although I
had more than fifteen years experience in energy psychology, including previous
training in TFT, I was amazed at how much I learned.  You now have the opportunity
to experience the same course I attended in the comfort of your own home!
Nothing works all the time and nothing works for everyone, but having Thought
Field Therapy in your toolbox is sure to greatly enhance your ability to assist
your clients.  I'm so excited that this excellent training is now so easily available
to everyone.  I hope you'll find it as valuable as I did."
Debby Vajda, LCSW
Clinical Social Worker
Past President
Association for Comprehensive Energy Psychology
---
About Thought Field Therapy
Thought Field Therapy, or TFT, is a non-invasive brief therapy technique that has been developed and refined over the last thirty years by the late California Psychologist, Dr. Roger Callahan. During a Thought Field Therapy session, the client is asked to think about a specific issue that is troublesome. This is commonly an anxiety, a phobia, past trauma, loss, grief, or feelings of anger, depression or physical pain. (Typically, the client has been stuck in these feelings for a long time and knows that their feelings are irrational, but other therapies have not helped.)
The client is then asked to quantify their feelings on a scale of 0 to 10, with 10 representing the most intense feelings of upset. Next, the client is asked to tap on his or her own body in specific places, or energy points, in a specific order. The most surprising thing for clients and therapists alike is that, despite their original skepticism, most clients  report that TFT really does work. While Suzanne, or any other therapist, cannot offer any guarantees, clients typically try but cannot get back the original feeling of upset about the identified issue.
---
"I've been back just over a week. 7 flights without meds! Did great
except for the last leg when I was so exhausted I took a pill to make
me sleep. Also went up to the top of a very high mountain to a
monastery via cable car hundreds of feet above the ground, Straight up
the side of another mountain in a tram and to the very top of the
Gaudi Cathedral in Barcelona. I was the only one in our group that
didn't get queasy!"
~ C. N. Spain 2014,  former client who suffered from fear of flying and fear of heights